The Road (aka Partners Till the End)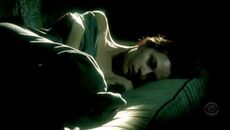 Season : 5
Episode: 15
Directed by: Holly Dale
Written by: Jennifer Johnson
Production Number: {{{production}}}
Airdate: 6 April 2008
Date of Crime: 12 August 2007
Previous: Andy in C Minor
Next: Bad Reputation
External Links
IMDB Site
Description
Edit
Blood from a man arrested in West Virginia matches blood found at the scene after a Philadephia woman was abducted from her engagement party in 2007. As Lilly and Scotty drive the man, known only as "John Smith" back to Philly, they soon learn he had abducted other women before, imprisoning them until they give up hope, and then finally letting them die. When they realize his latest victim may still be alive, the ride back becomes a battle of wills as Lilly and Scotty try to force John Smith to give up her location before her time runs out.
Main Cast
Edit
Guest Cast
Edit
Co-Starring
Edit
"Somewhere Over The Rainbow" by Israel Kamakawiwo'ole was also used in the Season 2 episode "Wishing"
Rihanna "Umbrella"
Gnarls Barkley "Crazy"
Israel Kamakawiwo'ole "Somewhere Over The Rainbow"
Absinthe Blind "Bands 2"
Liza Germano "Red Thread"
Closing Song: OneRepublic "Come Home"
Ad blocker interference detected!
Wikia is a free-to-use site that makes money from advertising. We have a modified experience for viewers using ad blockers

Wikia is not accessible if you've made further modifications. Remove the custom ad blocker rule(s) and the page will load as expected.