The Good-Bye Room (aka 40 Weeks)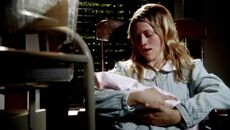 Season : 4
Episode: 16
Directed by: Holly Dale
Written by: Jennifer Johnson
Production Number: 2T7916
Airdate: March 4, 2007
Date of Crime: May 1964
Previous: Blood on the Tracks
Next: Shuffle, Ball Change
External Links
IMDB Site
Description
Edit
After discovering she was adopted as a baby, a woman asks Lilly to re-investigate the murder of her birth mother in 1964. Her mother was a teenager sent to a church-run home for unwed mothers before her murder. As Lilly and the detectives investigate, the now-defunct home's dark secrets begin to come out.
Main Cast
Edit
Guest Cast
Edit
Co-Starring
Edit
At the end of the episode, Hillary's case box is put away next to Simone Marks' case box. Rather ironic, given the theme of this episode. Steve Jablonski's case box is also visible two boxes over from Simone's.
Stillman and Jeffries both reference Stillman's older brother, Father Andrew Stillman.
The Supremes "Baby Love"
Ben E. King "Stand By Me"
Michael A. Levine "The Park"
The Four Tops "Baby I Need Your Lovin'"
The Supremes "Where Did Our Love Go"
Brenda Lee "Losing You"
Closing Song: Carly Simon "You Are My Sunshine"
Ad blocker interference detected!
Wikia is a free-to-use site that makes money from advertising. We have a modified experience for viewers using ad blockers

Wikia is not accessible if you've made further modifications. Remove the custom ad blocker rule(s) and the page will load as expected.