Our Boy Is Back (aka Useless Cats)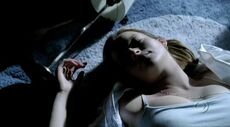 Season : 1
Episode: 3
Directed by: Bryan Spicer
Written by: Stacy Kravetz
Production Number: 176704
Airdate: 12 October 2003
Date of Crime: 21 August 1998
Previous: Gleen
Next: Churchgoing People
External Links
IMDB Site
Description
Edit
A serial rapist sends a letter to the squad announcing his return to Philadelphia after five years and his plan to strike again. Lilly's best hope of catching the rapist comes from a victim who is able to provide a composite sketch.
Main Cast
Edit
Guest Cast
Edit
Co-Starring
Edit
This episode is loosely based on the "Center City Rapist" Troy Graves.
Justin Chambers does not appear in this episode and his name is removed from the opening credits, though he appears in the following episode.
Third Eye Blind "How's It Going To Be"
The Cranberries "When You're Gone"
Closing Song: Wallflowers "Heroes"
Ad blocker interference detected!
Wikia is a free-to-use site that makes money from advertising. We have a modified experience for viewers using ad blockers

Wikia is not accessible if you've made further modifications. Remove the custom ad blocker rule(s) and the page will load as expected.