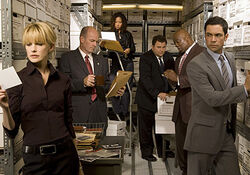 Cold Case Wiki
is a collaborative database about the hit
CBS
TV series
Cold Case
which premiered in 2003. Here, you'll find information on episodes, characters, actors, writers, directors, and all other things "Cold Case".
BEWARE! This wiki can and does post SPOILERS for episodes.
Anyone can contribute, but PLEASE GET A USER NAME BEFORE EDITING.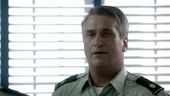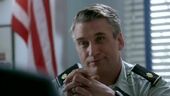 Moe Kitchener was a US Army officer serving as Colonel Murillo's Operations Officer at Pennsylvania Military Academy. In 2009, it was discovered that Moe was complicit in the cover-up of the 2005 murder of Cadet Kate Butler and later even ran Detective Lilly Rush's car off a bridge in an attempt to stop the investigation. After he made bail, Lilly would wage a personal vendetta against him over the following months, until Moe was murdered outside a bar in 2010.
In the fall of 2005, P.M.I. accepted two female applicants for the first time. Moe was assigned the responsibility of instituting the necessary changes to accomodate female cadets. He would later recall that, unlike the other female cadet Courtney Gaines, Kate immediately immersed herself in the life of being a first-year "knob", shaving off her hair herself.
On the night of November 15, Cadet Ryan Stewart came to Moe's office and told Moe he'd hit Kate and she hadn't gotten up. Unwilling to let P.M.I. be rocked by the scandal of a female cadet's murder, Moe ordered Ryan to get a foot locker from storage. Kate's body and all her possesions were then stuffed into the locker, which Moe then drove thirty miles off campus and buried in a Roxborough cemetary in Philadelphia. To everyone else, it appeared Kate had been unable to endure the school's strict standards and run away.
When a witness, then eight years old, comes forward with slight evidence suggesting that the 1971 death of an eighteen-year-old aerialist was a murder, the Cold Case crew re-opens her case. Read More
Ad blocker interference detected!
Wikia is a free-to-use site that makes money from advertising. We have a modified experience for viewers using ad blockers

Wikia is not accessible if you've made further modifications. Remove the custom ad blocker rule(s) and the page will load as expected.