A Perfect Day (aka The Choice)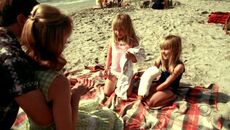 Season : 3
Episode: 9
Directed by: Roxann Dawson
Written by: Veena Sud
Production Number:
Airdate: 27 November 2005
Date of Crime: 28 August 1965
Previous: Honor
Next: Frank's Best
External Links
IMDB Site
Description
Edit
The remains of a four year old little girl are found on the bottom of the river, having been there since 1965. Trying to find out who she was, the detectives learn she came from an abusive home and that someone was trying to save her. Meanwhile, an impressed Stillman offers Kat Miller a spot in Homicide.
Main Cast
Edit
Guest Cast
Edit
Co-Starring
Edit
This was the highest rated episode to date for viewers with more than 19 million viewers.
This was also the first episode directed by Roxann Dawson, who would later become a producer on the show.
Scotty mentions the case from the episode "The Boy in the Box".
The Temptations "My Girl"
Opus 1 "Come With Me"
The Four Tops "I Can't Help Myself (Sugar Pie Honey Bunch)"
Marianne Faithfull "As Tears Go By"
Opus 1 "Where Was My Wedding Dress"
The Shirelles "Will You Love Me Tomorrow"
The Byrds "Mr. Tambourine Man"
Closing Song: Donovan "Catch The Wind"
Ad blocker interference detected!
Wikia is a free-to-use site that makes money from advertising. We have a modified experience for viewers using ad blockers

Wikia is not accessible if you've made further modifications. Remove the custom ad blocker rule(s) and the page will load as expected.